'Material Science in Interior Design'

Serdar Yanikov and Tatiana Kharchenko

12 Dec — 16 Jan

Sign up for this course
About the course
'Material Science in Interior Design' is a unique course that provides you with fundamental knowledge of materials used in interior design.
You'll learn more about the right choice of materials; follow the concept of «honest design»; review the tools used while working with materials; get more information about the leading material manufacturers.
What you get from the course
Learn how to work with widely used materials while creating your interior design;
Get more information about different applications in interior design;
Analyze project architecture and its solutions in European colleagues' works.
During the course, you'll have a new look at familiar materials, and learn more about their technical side and capabilities.
Lecturers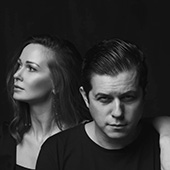 Serdar Yanikov and Tatiana Kharchenko
Serdar Yanikov @blk_serdar – an architect, interior designer, design curator, and founder of the art space «Richter» in Moscow. Tatiana Kharchenko @tatyanakharchenko — an interior designer and decorator. Serdar and Tatiana are founders of the studio DesignAid, participants of the «Kvartirny vopros» and «Dachny otvet», authors of the Artclever «Material Science» online course.
Course Program
Module 1: Introduction. Designer's ethic.

1.1. Introduction.

1.2. Counterfeits in projects..

1.3. Honest design.

1.4. Social role of a designer.

Module 2: Wood.

2.1. Basic information.

2.2. Projects overview.

2.3. Types of protective coating.

2.4. Wood compatibility with other materials.

2.5. Baseboards.

2.6. Brushing.

2.7. Assignment.

Module 3: Stone and Ceramics.

3.1. Basic information.

3.2. Production and exploitation.

3.3. Main types of stone and ceramics.

3.4. Assignment.

Module 4: Glass.

4.1. Basic information and modern technologies.

4.2. Manufactures overview.

4.3. Projects overview.

4.4. Assignment.

Module 5: Metals.

5.1. Basic information.

5.2. he Client-Designer-Contractor relationship.

5.3. Metal workshop.

5.4. Material selection and its price formation.

5.5. Assignment.

Module 6: Textiles.

6.1. Basic information.

6.2. Textiles in interior design.

6.3. Boucle and plain fabrics.

6.4. Patterns.

6.5. Fabrics as fashion.

6.6. Assignment.

Module 7: Decorative coatings.

7.1. Coating. Basic knowledge.

7.2. Decorative coatings.

7.3. Manufactures overview.

7.4. Projects overview. Overview of the projects' materials.

7.5. Assignment.

Module 8: Light.

8.1. Basic knowledge.

8.2. Types of light fixtures.

8.3. Basic characteristics of light.

8.4. Features of a lighting designer work.

8.5. Assignment.

Module 9: Structural units.

9.1. Structural units.

Module 10.

10.1. Material Board.

10.2. Scale in Material Board.

10.3. Author's supervision.
Learning process
Training takes place remotely. Video lessons are available at any time convenient for you. You receive a link to access the first unit and you can view the lessons any number of times and at any convenient time within the duration of the course;
You will get access to the course review no later than 9:00 (MSC) on the appointed day of the course start.
During the whole term of the course, you receive technical support: notifications, reminders, answers to technical questions, technical assistance.
Video tutorials contain practical tasks. Some lessons are available only after completing the practical tasks of the previous lessons;
For each lesson of the course, you have the opportunity to consult a teacher on the course feed by attaching a file, a photo or by simply asking a question. Photograph work for assignments and publish them on the feed of the lesson page under the video.
Complete assignments at any time convenient for you during the course;
The teacher comments on the completed tasks, points out mistakes, approves or asks for work to be resubmitted. Until the teacher accepts a practical task for some lessons, you cannot continue learning in the next block (stop-lessons are marked accordingly). In extremely exceptional cases, the course administrator can grant you access to the block or the whole course after the treatment;
You communicate with the teacher all the time; he/she will answer all questions. Do not expect the presence of an online teacher permanently.
The teacher has the right not to respond to messages on social networks or through other means of communication, except for a chat on the Artclever platform;
After the course of the educational institution-partner Artclever you get an official certificate (with links to all partners).
In the near future, courses will have subtitles in Russian and English, and an online chat translator.
At the end of the beta testing period, the site will be available in English and in Chinese.
You have the opportunity to extend the access to video lessons for 7 days, without communication with the teachers and without the possibility of sending new works.
Refund guarantee.
We guarantee a refund at your request. You can claim a refund within 48 hours of the course beginning. If the course is made by Artclever, you need to submit a request for a refund by writing to info@artclever.com. If the course is made in conjunction with a partner, you must contact the administration of the partner institution during business hours.
ATTENTION: the payment system commission is 1 - 5% of the payment amount depending on the method of payment and is not refundable.